Welcome...
Texas Criminal Justice Information Users' Group
Tuesday, March 17, 2020
Due to the COVID-19 situation, the TCJIUG Conference has been rescheduled to July 26-31, 2020.
If you have already registered and are able to attend the new dates, you don't need to do anything. If you already registered and are unable to attend now, please email wkraus@lubbockcounty.gov to make arrangements for a refund.
Please contact the hotel directly at (361) 883-5731 for cancellations or date adjustments.
This was a difficult decision. However, out of concern for the safety and well-being of our members, their families, agencies and general public, we felt this was the appropriate action to take.
Take care of one another, and we hope to see you at Corpus in July!
Windy Kraus
TCJIUG President
The Texas Criminal Justice Information Users' Group (TCJIUG) is a nonprofit (501 C.3), apolitical organization governed by bylaws initially adopted in January 1974 and incorporated in 1977 . Due to technological advancement, funding changes and membership diversification, the general focus of TCJIUG has changed over the years, but the basic objectives of the organization have remained constant:
Placing emphasis on delivery of information, education and training to organization members.
Progressively moving the organization forward to serve the needs of the membership and the Criminal Justice sector.
Exploring methods of applying technology to industry needs and making technology solutions more readily and economically available to users.
Exploring every method possible to cut costs and maintain a responsible economic approach to activities without sacrificing quality.
Maintaining good working relationships with State and Federal agencies and promoting new relationships with other criminal justice organizations.
TCJIUG members consist mainly of operational, management and political levels of law enforcement, communications and information systems personnel, with members from related fields in associate membership roles.
TCJIUG is a training provider for Texas Commission on Law Enforcement(TCOLE) with frequently scheduled Texas Department of Public Safety (DPS) trainers and other trainers for special programs like Domestic Violence, Cultural Diversity, Racial Profiling, Asset Forfeiture and Hate Crime Reporting. Full day Terminal Access Coordinator (TAC) and Texas Law Enforcement Telecommunication System (TLETS) operator training is featured at each general conference. Each conference provides substantial numbers of hours of TCOLE credit.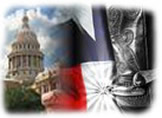 The information contained in this site was valid at the time of posting. TCJIUG assumes no liability for damages incurred directly or indirectly as a result of errors, omissions or discrepancies. Moreover, TCJIUG is not responsible for the content of nor endorses any site which has a link from or to this website.
---
Mailing Address:
TCJIUG
POBox 1452
Lubbock, TX 79408
Legal Address:
TCJIUG
POBox 684096
Austin, TX 78768-4096
Email Addresses:
General Inquiries
information@tcjiug.com